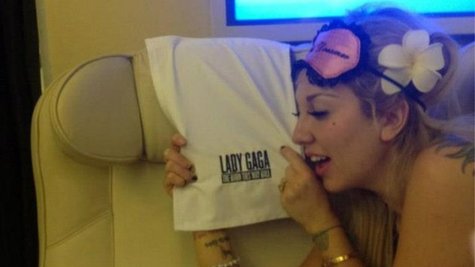 Lady Gaga 's rich enough to buy pretty much anything she needs -- except, it seems, a plane. Gaga announced via Twitter on Friday, "So apparently LIVE NATION" -- that's the name of her concert promoter -- "gave us a 757 I just cried on the tarmac. We tried to take a pic but its too big."
Gaga went on to continue tweeting about her new toy, writing excitedly, "OMG there's Internet on the PLANE. THIS IS MY PLANE IT HAS INTERWEBULAR features. Monsters :( i cant believe this sometimes....I just sang bad romance in the aisle and Tara" -- that's Gaga's makeup artist -- "is doing Kristen Wiig Bridesmaids impressions on the intercom. There's even custom seats !!"
Gaga also was thrilled at the food on the plane, tweeting a picture of some of the on-board staff who were serving it, several of whom were named Joanna . As fans know, that was also the name of Gaga's beloved late aunt, a fact she found notable, referring to it as a "sign."
In other Gaga news, she tweeted a link to an old song of hers that's been floating around on the Internet in demo form for a long time, but which suddenly seems fitting. It's called "No Floods," and Gaga noted on Twitter, "i wrote this song when i was 16. so weird to hear it now because of hurricane...hope this will cheer u up." The lyrics, say, in part, "No matter lightning or thunder, buckets of rainwater / You can't flood this town."
Gaga also added , "i'll be there as soon as i can to help my old neighborhood. I'm on tour + can't let my fans down. I want to help with my hands with all of u."
Copyright 2012 ABC News Radio