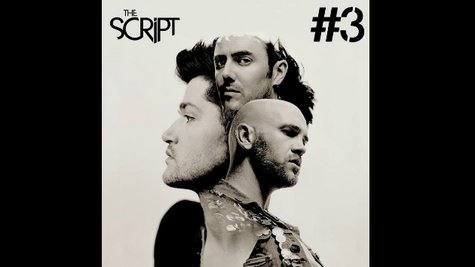 The Script is currently in the middle of a U.S. tour in support of their third album, which is called, appropriately enough, #3. The tour, which kicked off at New York City's famed Radio City Music Hall and is set to wrap up in early December, is going "amazing," according to lead singer Danny O'Donoghue .
Talking about the tour opener in New York, Danny tells ABC News Radio, "You know, we walked off stage just going, 'It was an amazing show,' you know, but it's been like that way everywhere. We've been very blessed with great fans, great audiences, great gigs...we're just happy to be out there and playing for the people."
What makes the shows even better is that the group now has three full albums of songs to perform, which makes creating a set list a lot easier, as guitarist Mark Sheehan explains.
"It's so much fun to have three albums there now," he tells ABC News Radio. "We were doing an acoustic session and usually we're sitting around going, 'What songs are we gonna play?' And now it's what songs we're not going to play!" He adds, "After the show...fans'll stand there and go, 'You didn't play this song. You didn't play that song'...[but] it's loads of fun to have that choice of music now to play from."
As for why the band called the album #3 , Danny explains, "The name had a lot of synergy to it. You know, there's three of us in the band. It's our third album....every day we went into that studio, there was a three on the door. So...we just went, you know, 'There's a lot of synergy and it seems to be cropping up a lot , like, a lot in our lives.'"
The Script feels that this album is their most emotional yet; it includes a song about the death of the band members' parents, as well as a song about a bad breakup that Danny went through. "We really bled," Danny tells ABC News Radio about the songwriting process for the record, adding, "We're all very honest...truth and honesty is what this band is. The record definitely reflects that."
Recording #3 was a bit tricky, however, because the band did it at the same time that Danny was appearing as one of the coaches on the U.K. version of The Voice, along with Jessie J , Tom Jones and Will.i.am of The Black Eyed Peas . He'd work on the show all day, and then go to the studio and work all night on the album. But he says the workload didn't bother him at all.
"It was easy, you know, it genuinely was," says Danny. "That's what I got into music for, was to do it all day long. And as soon as someone turns around, and says, 'All right, you can!' you don't look a gift horse in the mouth!" Speaking of his time on The Voice, which he may or may not return to, Danny says, "It was a great experience to be passing on information at such a young stage in our career...It's a big, big pleasure and a big honor."
Copyright 2012 ABC News Radio