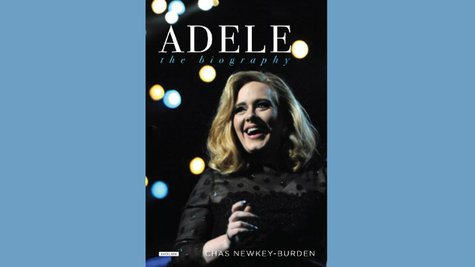 Since the extremely private Adele is unlikely to write a tell-all anytime soon -- after all, she still hasn't confirmed that she's a new mom -- we'll have to console ourselves with Adele: The Biography , a new book that aims to tell the Grammy-winner's "personal story."
The book from Overlook Press follows Adele through her London childhood, through her development as an artist and a songwriter, and through all that heartbreak that inspired her hit songs.
Explaining her penchant for writing songs about busted relationship, Adele is quoted in the book as saying, "In the past I've tried to sit down and think, 'Right, this is what I'm going to write about,' but I can't because you can't force it. All my songs are a bit sad and full of drama because when I'm happy I haven't got time to write songs, y'know? When I've had my heart broken, I end up feeling sorry for myself and writing songs."
She also says her fascination with these kinds of songs date back to her childhood. "When I was a girl, I loved love songs. And I always loved the ones about horrible relationships," the book quotes her as saying. "Ones that you could really relate to and made you cry."
As for the ex-boyfriend who inspired her gazillion selling album 21 , Adele is quoted in the book as saying, "It was the biggest deal in my entire life to date [him]...He was older, he was successful in his own right, whereas my boyfriends before were my age and not really doing much. He got me interested in film and literature and food and wine and traveling and politics and history and those were things I was never, ever interested in. I was interested in going clubbing and getting drunk."
The book also reveals one of the singer's more embarrassing moments: appearing on Saturday Night Live in 2008, the same night that both Tina Fey and Sarah Palin were on, she mistook Palin for Fey backstage. "I...love Tina Fey and I was, like, 'Tina, Tina!' She didn't even acknowledge me, she was just completely oblivious," recalls the mortified singer.
Adele: The Memoir, written by Chas Newkey-Burden , is in stores now. He's also written books on Justin Bieber , Michael Jackson , Amy Winehouse and Paris Hilton .
[All quotes from From ADELE: THE BIOGRAPHY Copyright © 2012 Chas-Newkey Burden. Published by The Overlook Press. All rights reserved.]
Copyright 2012 ABC News Radio