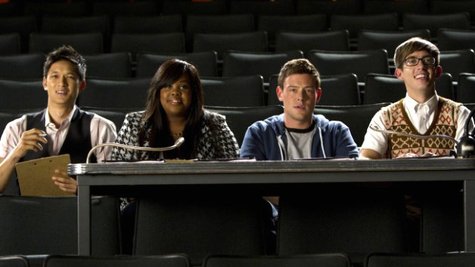 After several weeks on hiatus, Glee finally returns Thursday night with new songs -- and some familiar faces.
The plot revolves around McKinley High's plans to stage a production of the musical Grease , directed by Finn. He's insecure about his abilities as a director, so Artie arranges for some old friends to drop by and help: vocal coach Mercedes and choreographer Mike Chang, both of whom graduated last season.
Meanwhile, the rest of the cast battle to win the prime roles of Danny and Sandy in the production. Marley and Kitty are competing to play Sandy, while Jake Puckerman and new guy Ryder -- played by The Glee Project winner Blake Jenner -- are fighting to play Danny. We only hear two Grease songs in the episode, though: "Born to Hand Jive" and "Hopelessly Devoted to You."
That last song is performed by Blaine, who no doubt is pining over Kurt. You may recall the two seemed to break up in the last episode before the hiatus, after Blaine revealed that he cheated on Kurt.
Other songs in the episode include Pink 's latest hit "Blow Me (One Last Kiss)," sung by Marley and Unique; Foreigner 's rock classic "Jukebox Hero," sung by Finn and Ryder; and Neon Trees ' "Everybody Talks," sung by Jake and Kitty.
A few seasons ago, Glee featured Neon Trees' platinum-selling single "Animal" on the show. Asked a few months ago whether he'd be interested in seeing "Everybody Talks" featured in the show as well, Neon Trees frontman Tyler Glenn told ABC News Radio, "That'd be fun if they were interested. I think they put a really fun spin on 'Animal.'" He added, laughing, "It was over the top and super-gay! So it was fun."
Copyright 2012 ABC News Radio