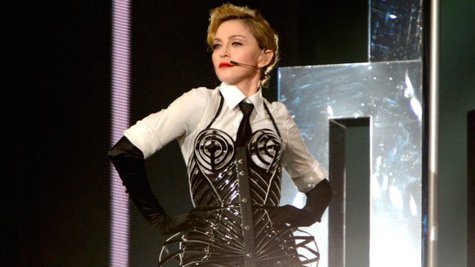 Madonna has made no secret of her support of Barack Obama , even inking herself with a back tattoo of his name and flashing it at a concert before the presidential election. It should come as no surprise, then, that she's thrilled at his re-election.
On Thursday night, the Material Girl announced to fans at her concert in Detroit that she was "ecstatically happy Obama is our president," Billboard reports.
The declaration was met with a majority of cheers and a smattering of boos. To the booers, Madonna pledged her love and said, ""What's so great about the United States of America is we live in a democracy. You can boo all you want, but... I've been around the world, and there are a lot of countries out there fighting for that right. Whether you got who you want or not in the White House, at least you had the privilege of voting. That's what makes the United States of America great. We can choose...don't be haters."
Detroit is Madonna's hometown and still the home of her father, Tony Ciccone , who attended the show. Madonna revealed that she and her dad "don't have the same political opinions [but] we still love each other."
Madonna's MDNA tour hits Cleveland on Saturday night and then New York City on Monday and Tuesday. The tour wraps up its U.S. leg on November 20 in Miami before heading to Mexico and South America.
Copyright 2012 ABC News Radio