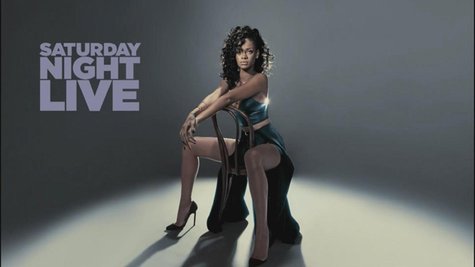 Rihanna is ready to make her fourth appearance on Saturday Night Live this weekend, and the question is, will she simply perform, or will she also participate in a sketch or two?
The last time Rihanna appeared on SNL , in May of this year, she didn't appear in any sketches or digital shorts -- she simply performed "Where Have You Been" and a medley of "Cake" and "Talk That Talk." This time, she'll definitely perform songs from her upcoming album, Unapologetic -- "Diamonds" and one or two additional tracks.
However, Rihanna's first two appearances on SNL were highlighted by her hilarious "Shy Ronnie" digital shorts, in which she starred opposite Andy Samberg . In the "Shy Ronnie" sketches, Andy Samberg plays Ronnie, a guy who's so shy in the presence of Rihanna that all he can do is mumble incoherently. When she leaves, he turns into a foul-mouthed, off-the-wall rapper. In the first sketch , Shy Ronnie and Rihanna attempt to give presentation to some students; in the second , they're Bonnie & Clyde-style bank robbers. Their first collaboration received an Emmy nomination for Best Original Song.
Sadly, Samberg is no longer on the show, so any Shy Ronnie idea is likely out. But since Rihanna now has a movie under her belt -- Battleship -- she may feel more comfortable acting in other sketches. Tune in Saturday night to see.
Copyright 2012 ABC News Radio