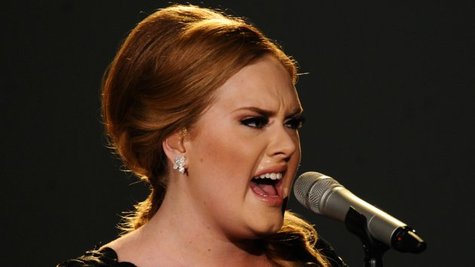 Adele says she will slim down -- only if her larger size begins to negatively impact her health, or her sex life.
In excerpts from a new book, Adele: The Biography , printed by USA Today , the singer is quoted as saying she's "always been a size 14-16," and that she's "fine" with her size despite some negative press -- including being called a "test pilot for pies" by one YouTube commenter. "I would only lose weight if it affected my health or my sex life, which it doesn't," she's quoted as saying.
One other startling revelation in the biography is that she reacted to that notorious breakup that inspired most of the songs on 21 the same way many commoners would: she turned to the world of online dating. "I...signed up for eHarmony, [but] I [couldn't] put a photo of myself, so I [didn't] get any e-mails!"
Of course, Adele's days of dating frustration seem to be behind her. She is engaged to British entrepreneur Simon Konecki , and on October 19 gave birth to their first child together, a baby boy whose name has not yet been revealed.
Copyright 2012 ABC News Radio