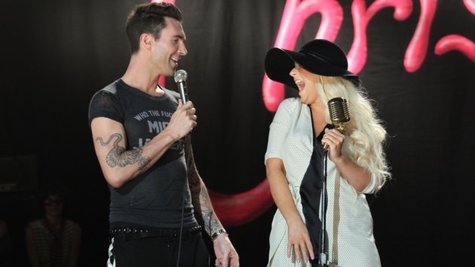 They may not always see eye to eye in front of TV cameras, but Adam Levine is firmly in Christina Aguilera 's corner when it comes to taking on the outside world.
The Maroon 5 frontman and judge on The Voice will appear on The Ellen Degeneres Show Monday and was asked by the host about the flak that Christina sometimes gets about her weight. In a clip released to Entertainment Weekly , Levine says, "It's a very basic thing -- she should be left alone. No one should bother or haggle her about her weight or anything that she does or says. So, that's it. That's how I feel about it." His impromptu speech received wild applause from the talk show audience.
Adam also told Ellen that he's currently shooting both season three of The Voice with fellow judges Christina and Cee Lo Green and season four with their fill-ins Usher and Shakira .
"We shot with Usher and Shakira the other day. And that was the first time we did that, which was trippy, because it wasn't the original people, but it was also a lot of fun," Adam said. "I remember thinking to myself, I love these guys, but just miss Cee Lo and Christina. But then I realized, it's OK because I'm going to see them in a week from now."
Copyright 2012 ABC News Radio