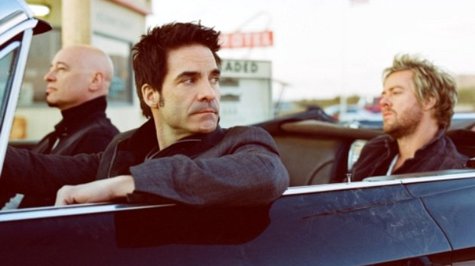 After wrapping up their California 37 tour, Train is now gearing up for more dates in early 2013. The group has created a fun recap video highlighting the interactive nature of the tour, which featured, on various nights: onstage weddings and engagements, female fans duetting with singer Pat Monahan , groups of young fans dancing on stage with the band, and boatloads of beach balls being thrown into the audience.
Explaining why Train works so hard to make their shows a special experience for their fans, Pat tells ABC News Radio that it all comes down to the fact that the band finally realized that they should stop trying to be cool and hip, and focus instead on what really matters: the audience.
"Analyzing the past 10 years, we were finding our way, wanting to be things that weren't natural to us," Pat explains. "As we watched Oasis and Coldplay -- they were all the coolest people...we were like, 'Man, those guys are cool. We're cool, right?' And we realize now how uncool we were the entire time and that trying to be cool is not natural for us."
After this epiphany, Pat says the band decided that they should just "be who we are, which is regular people who really love other people." That translates into gratitude for their success, and a desire to connect with their fans on a deeper level.
"We're very grateful that these fans of Train even wanna come and see us live," says Pat. "And so if they wanna come and see us, we wanna, like, pass out beach balls and have, you know, as many interactive experiences with one another as possible."
Pat says that Train also wants to be the band that people can depend on for good music and good times for many years to come. "You reach a certain level of, like, 'I can count on them,' you know?" He says, "Because we, as humans, want to count on somebody...we are all looking for somebody that we can count on. So, hopefully, we'll be something that people can count on for a while longer."
And because they're grateful to be having such great success after being around for so long, Train doesn't have time for the kind of diva behavior that so many other artists succumb to.
"I hear so many, like, celebrities and musicians say how much they love their fans and then you see 'em brushed off by some big dude, thrown in a car and they never say two words to their fans," says Pat. He says they'd rather model themselves after a band like AC/DC who, he's been told, will stay and sign autographs for every single fan after a show. " That's what you want your heroes to be like," he says.
Copyright 2012 ABC News Radio