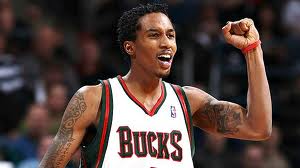 PHILADELPHIA, PA (WSAU) The Milwaukee Bucks blew a 16-point lead in the third quarter last night, but they rallied in the final period to win at Philadelphia, 105-to-96. The game was tied at 83 going into the fourth quarter – and then Brandon Jennings scored 11 of his 33 points on the night.
The Bucks sealed the victory with a 9-0 run which put them up by 10 with 2:45 to play. Jennings also ended with eight assists, four steals, and two blocked shots. And he erased a bitter memory from Saturday night, when he made just 1-of-11 from the floor in a home loss to Boston.
Jrue Holiday scored 25 points for Philadelphia, which ended a three-game winning streak and dropped to 4-and-3 overall. The Milwaukee defense held the Sixers to just 19-percent shooting in the final period. But Bucks' coach Scott Skiles was not happy with all the turnovers. His team committed 23 of them, and they led to 29 Philadelphia points.
Still, the Bucks improved to 3-and-0 on the road, and 4-and-2 overall. They'll return home to play Indiana tomorrow night.