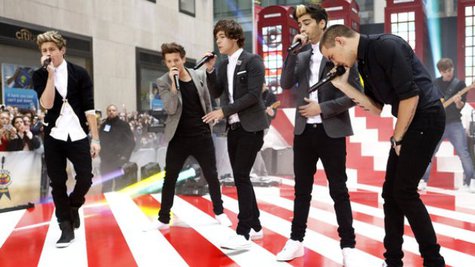 It's no wonder that One Direction's appearance on NBC's Today show on Tuesday drew a record crowd -- some fans had been camping out since last Thursday to be sure they were front and center when the Fab Five took the stage to celebrate the release of their new album, Take Me Home .
An estimated 15,000 screaming fans watched 1D perform three songs -- "What Makes You Beautiful," "Live While We're Young" and "Little Things" -- and heard Niall Horan announce some big news: there's a movie in the works.
"We are going to do our first movie," Niall said to screams of delight. "It's going to be in 3D, and it's coming to cinemas near you on the 30th of August, 2013." That date comes in between the time 1D wraps their U.S. summer tour and the time they start their Australian tour.
Billboard reports that the 3D movie will be directed by Morgan Spurlock , the documentary filmmaker best known for Super Size Me , which followed him as he ate nothing but McDonald's food for a month. Simon Cowell, who signed 1D to his label, tells Billboard that Spurlock is the "perfect person to give that access-all-areas, behind-the-scenes look into what it's like to be One Direction today."
As for Take Me Home, Liam Payne said he was happy that fans would finally be able to hear the record. "We waited a long time to get an album out for the fans, and they deserve it. They've worked so hard for us over the last year and a half," he said. Harry Styles stressed how much more creative input the group had into the new album, explaining, "We wrote about five songs on the album, so we really are getting involved in the writing and stuff. And we hope the fans love it."
One Direction have a few more concerts on their schedule for the rest of this year, including their big show at New York City's Madison Square Garden. Next year, though, it'll be non-stop touring for the guys, as they circle the globe in support of Take Me Home . "It's great to be together on the road," said Liam. "We have so much fun...It's a lot of long journeys and stuff involved but we have a good time and that's all that matters with us."
By the way, when the guys were asked which of them have girlfriends, only Zayn Malik and Louis Tomlinson raised their hands.
Copyright 2012 ABC News Radio