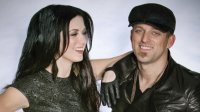 New CMA Vocal Duo of the Year Thompson Square will become published authors next year, with a book based on their breakthrough hit.
Travis Thrasher , who's been called the "Nicholas Sparks of Christian fiction," will co-write the novel that traces the love story of David Winters and Zoe Spark. "Are You Gonna Kiss Me or Not?" is due in stores June 4, 2013.
In the meantime, Keifer and Shawna Thompson head out on tour with Luke Bryan in January, with their sophomore album due in early 2013.