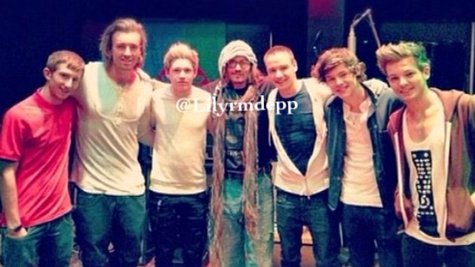 What's the best thing about having a movie star dad like Johnny Depp ? He can use his power to arrange for a private meeting with your favorite music group...like, oh, say... One Direction .
As reported by E! Online , on Saturday, Depp apparently pulled some big-time strings and managed to get One Direction to come to his home recording studio to meet and -- possibly -- perform for Lily-Rose , his 13-year-old daughter with Vanessa Paradis . How do we know? Because Lily-Rose tweeted a picture of Depp posing with Harry , Louis , Liam and Niall -- Zayn Malik apparently couldn't make it . There are two other guys in the photo who aren't identified.
When one of Lily-Rose's followers asked the teen if the 1D guys were "totally like proper English gentlemen," she replied, "Yes :)."
Copyright 2012 ABC News Radio