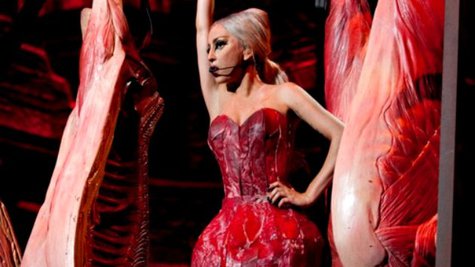 You may have seen pictures of Lady Gaga on stage on her Born This Way Ball tour over the past few months, but don't expect the singer to be sporting those same outfits when the tour hits the U.S. next year.
The singer tweeted , "THE BORN THIS WAY BALL is getting a face-lift for America. I heard rumors @VERSACE IS CUSTOM DESIGNING ALL THE CLOTHES AND NEW LOOKS."
Gaga also promised more fun activities for her U.S. fans when the tour gets underway January 11 in Vancouver.
She tweeted, " #BTWBALL in America will have a tailgate gypsy party being thrown by @BREEDLOVENYC and @ladystarlightny EVERYDAY pre-show in parking lot." Breedlove and Lady Starlight are two old musical pals of Gaga's.
In other Lady Gaga news, she's continuing her association with Barneys, the swanky New York City department store she teamed up with last year to launch her pop-up store "Gaga's Workshop." She's one of several celebrities featured in a new display in the store's legendary Christmas windows, which are being unveiled Wednesday.
According to Women's Wear Daily , the display features an animated film called Electric Holiday , in which Minnie Mouse dreams of being a fashionista. As Minnie imagines herself traveling to Paris Fashion Week, she meets animated versions of some of fashion's biggest icons, including Sarah Jessica Parker , Linda Evangelista , and Gaga, pictured how she appeared on a recent cover of Vogue , with sky-high blonde hair and a purple dress.
Electric Holiday will be projected on LED tiles that cover the Barneys ground floor facade.
Copyright 2012 ABC News Radio