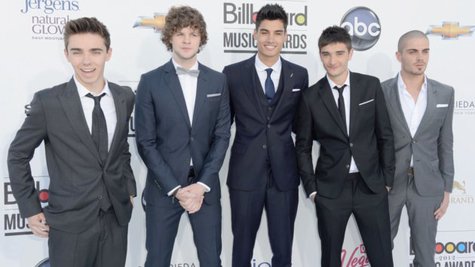 The Wanted have appeared on most of the big U.S. TV shows, and they'll be performing on the American Music Awards this Sunday night. But now, the group claims they have a shot at getting their very own American TV show, and they may move to the States to make it happen.
Speaking to the British paper The Sun , The Wanted's Tom Parker says, "We're looking at getting a TV show in the U.S. and we want houses over there to have a base."
But that's not all. According to Tom, the group may also be heading to the big screen. He tells The Sun , "We're...in the frame to record a song for a big film sequel and we might get a cameo in it." He neglected to mention which movie this would be, however.
Finally, Tom revealed that six months ago, before anyone had ever heard of South Korean rapper PSY , he got a look at the "Gangnam Style" video because both he and The Wanted are managed by the same guy: Scooter Braun . And Tom admits that at the time, he didn't think much of it.
"I was round [Scooter's place] six months ago having a barbecue," Tom recalls. "He showed me a YouTube clip of the song and I said, 'Are you having a laugh?' He said, 'It'll be huge' but I didn't believe him. He's a clever guy."
Copyright 2012 ABC News Radio