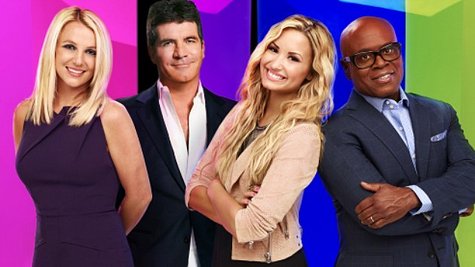 On Wednesday night's edition of The X Factor , the top 12 contestants performed live in the hope of securing enough of America's votes to remain in the contest. Two acts will be eliminated by the end of Thursday's results show.
Britney Spears has four acts remaining in the Teens category, Demi Lovato has three of her Young Adults still standing, Simon Cowell now has three Groups to mentor and L.A. Reid has just two acts representing the Over 25s.
Mario Lopez and Khloe Kardashian Odom once again acted as hosts.
This week's theme was "Diva Night," celebrating the songs of strong female artists. Here's how the performances went:
Demi Lovato/Young Adults
-- Jennel Garcia is a dance teacher, as well as a singer. She performed a version of Creedence Clearwater Revival 's "Proud Mary," and incorporated some Tina Turner -style choreography in her routine. Tina, of course, scored a hit with that song, too. L.A. said of her performance, "That smoked!" Simon said that Jennel is back in the contest.
-- Paige Thomas had been told that her past performances bordered on "karaoke." She wanted to put criticisms aside and dedicated her song to her mother, who had passed away when Paige was just 6 years old. She sang Donna Summer 's "Last Dance." L.A. called it her "best yet." Simon agreed but added that the choreography was distracting.
--Demi said CeCe Frey would show "how bad she wants it," after surviving last week's sing-off. She sang Eric Carmen 's "All By Myself," as performed by Celine Dion . L.A. was lost for words and could only say that he didn't like her dress. Britney said, "Sorry, I just don't get it." Simon called the performance "cabaret," and thought that CeCe and her mentor were "not getting it right."
L.A. Reid/Over 25s
-- Tate Stevens is the country singer who topped the leader board last week. He decided to sing the Shania Twain song "From This Moment On." Britney called the performance "heartfelt." Simon said Tate's performance was even better than last week and added that he would gladly award Tate the $5 million prize right now.
--L.A. once called Vino Alan an "underdog," but he finished third in last week's rankings. He sang Tina Turner's version of Al Green 's "Let's Stay Together." Britney said Vino has a "soulful voice." Demi said she was a little bored with Vino's performance. Simon was still looking for Vino's "moment."
Britney Spears/Teens
--Diamond White had been previously eliminated but was given a second chance by the show's producers last week. She sang "Halo," by Beyonce . L.A. said that Diamond had "started shaky" but managed to fill Beyonce's big shoes. Demi thought Diamond was already a diva. Simon called her "a future star."
--Beatrice Miller was disappointed to be placed only 10th on the leader board last week. She sang "Time After Time," by Cyndi Lauper . L.A. wasn't sure that the song choice was the best showcase for her voice. Demi disagreed and liked the soulful tone in the performance. Simon thought the song was boring.
--Arin Ray finished 11th out of 12 on last week's leader board, and desperately wanted to improve his standing. After a brief technical fault, Arin sang "Crazy for You," by Madonna . L.A. said he was not feeling "goosebumps." Demi agreed and was "bored" by the performance. Simon bizarrely said Arin's attempt at the song was like "asking a cat to eat a tiger."
--Carly Rose Sonnenclar was happy to have received a visit on set by her father. She sang "My Heart Will Go On" by Celine Dion , from her favorite movie, Titanic . L.A. said "we could be looking at the winner." Demi said she couldn't believe how good a voice Carly has at age 13. Simon called the performance "absolutely incredible."
Simon Cowell/Groups
--Simon warned that the song of choice for his first group had been changed at midnight on Tuesday night, giving Lyric 145 little chance to rehearse. They dedicated their performance to family and friends affected by Hurricane Sandy. They performed a mash-up of Katy Perry 's "E.T." and Queen 's "We Will Rock You." L.A. thought Lyric 145 had "lost their way." Demi was confused about the song choices. Simon said that the rappers "bring an energy that the show needs."
--Newly-renamed Fifth Harmony is a group of young women who were put together from solo singers after the open auditions. The five told of how well they have been bonding. They sang "Hero," by Mariah Carey . L.A. called them "loveable." Britney was extremely impressed. Simon said that Fifth Harmony have a chance of winning the contest.
--Emblem3 , who Simon said had "risked their lives saving some drowning kittens this week," were disappointed with their sixth-place ranking on last week's show. They sang a version of the Alicia Keys song "No One." L.A. said they had a perfect vocal blend. Britney understood the boy's sex appeal. Simon called Emblem3 "absolutely brilliant!"
The X Factor will return to Fox on Thursday at 8:00 p.m. Eastern time.
Copyright 2012 ABC News Radio