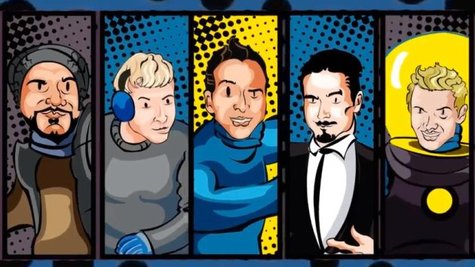 After more than a decade, Backstreet's back...on top of the Billboard chart. Not the Billboard Hot 100 or the album chart, but hey, you gotta start somewhere.
The Backstreet Boys ' new holiday single, "It's Christmas Time Again," is #1 on Billboard's Holiday Digital Songs chart. It's the first new song from the group since Kevin Richardson rejoined the fold after a five-year break. The group has also made an animated video to go along with it.
The last time the Backstreet Boys were number one on any Billboard chart was back in 2001, when Around the World with the Backstreet Boys topped the Music Video Sales chart.
Nick Carter told AOL Music , "We're so proud of this new song. There aren't that many original holiday songs out there -- which is so crazy to say -- and we really feel we made a timeless contribution to the season and a song our kids' kids will be listening to. Plus, we have our boy Kevin back in the studio with us. This is a really exciting time."
Backstreet celebrates its 20th anniversary in April of 2013.
Copyright 2012 ABC News Radio