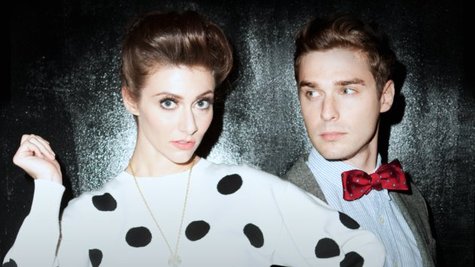 Isn't it romantic? Engaged pop duo Karmin - - that's Amy Heidemann and Nick Noonan -- will be spending Thanksgiving Day in New York City together...singing on a float in the Macy's Thanksgiving Day Parade.
The duo, who hail from Maine and Nebraska, have fond memories of watching the parade growing up, and can hardly believe they're getting to be a part of it. "Oh man, I remember always having the parade on TV every year and always watching the parade, watching the floats, the whole thing and then, of course, you eat and then you'd watch football," recalls Nick.
"Same for me," adds Amy. "I mean, we're from really small towns so it's always...I mean, it's like this huge American tradition, the parade. And this will be our first year even being in New York during the parade, and then to top it off, we're actually in it. So [it's] really special."
The couple aren't planning to trek home to either of their respective families after the parade, however. Nick tells ABC News Radio, "We're gonna stay in New York for the day, actually gonna go to a friend's house and, kinda, bum rush his Thanksgiving with his family." After that, the duo heads back to Los Angeles, where they're working on a new album.
Karmin has had a great year, releasing their debut EP Hello , scoring hits with the title track and "Broken Hearted." That's why Amy says it's clear who she and Nick are thankful for this Thanksgiving. "I would say our fans are number one," Amy tells ABC News Radio. "I mean, they're kind of the newest addition to our lives."
She adds, "We had a crazy year after we kinda blew up on the Internet...[we] had a platinum single this year. We did a bunch of cool milestone things. They voted us onto the cover of Rolling Stone magazine. I mean, it's just wild. We're feeling very blessed this year."
You can catch Karmin on the Macy's Thanksgiving Day Parade when it steps off at 9 a.m. on NBC in all time zones.
Copyright 2012 ABC News Radio