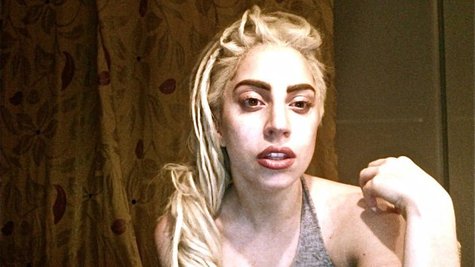 Lady Gaga had an unusual Thanksgiving, to say the least: she visited with abuse victims, and then discovered a bunch of fans camping out in her garage.
In Peru with her Born This Way Ball tour, Gaga began the holiday by spending time at a shelter in Lima, visiting with Peruvian girls who'd been sexually abused, according to Fox News Latino . During her visit to the Infant Jesus of Prague home, which provides shelter for 45 girls ages two to 13, Gaga shared a snack with the kids and even performed a few songs for them. Then, things got weird.
On Twitter, Gaga said that her family had joined her in Peru for Thanksgiving, but revealed that on Thanksgiving night, she discovered 35 fans had broken into the garage of the property where they were staying. She wrote on Twitter , "#MONSTERFACT When Gaga is asleep, try to break into the garage, sing loud as possible + ring the doorbell repeatedly," and added the hashtags "#happeningnow" and "#badkids."
She then continued , "Thanksgiving story: woke up for leftovers in kitchen (naked) -- stumbled on security camera revealing 35 monsters in my garage. #why #iloveu." She joked about wanting to "slide stuffing under the door" for the fans, but added, "There's no cat-flap."
As for what Gaga was thankful for this year, she tweeted to her fans, "I'm thankful for all of you, the messages of positivity u send me everyday lift me & make me stronger."
Copyright 2012 ABC News Radio