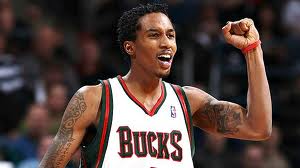 CHICAGO, ILL (WSAU) Milwaukee Bucks' point guard Brandon Jennings is listed as questionable for a game tonight against the Bulls in Chicago. Jennings traveled with the team yesterday to the Windy City, after he sprained his left ankle with 23 seconds left in Saturday night's Milwaukee home loss to the Bulls, 93-to-86.He had to be carried off the court by two of his teammates.
Chicago ended a three-game losing streak with its victory at Milwaukee. Rip Hamilton and Carlos Boozer each scored 22 for the Bulls, and former Marquette forward Jimmy Butler had six points and seven rebounds in his return to the B-M-O Harris Bradley Center.
Milwaukee is 6-and-5 going into tonight's contest. Chicago is 6-and-6. The Bulls have beaten the Bucks nine straight times – and Milwaukee has only won eight of its last 38 games at Chicago's United Center.