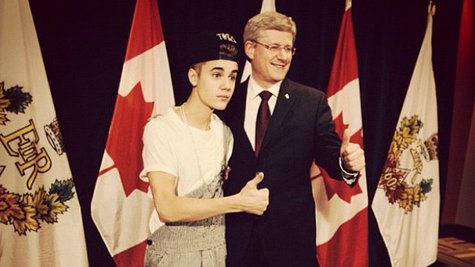 If you were going to accept a prestigious award from the leader of your country, common sense dictates that you'd dress up for the event, right? Well, it appears that Justin Bieber 's fashion rules are different from everyone else's.
According to the Ottawa Citizen , on Friday night, before his concert in Ottawa, Canada, Justin received a Diamond Jubilee Medal from Canadian Prime Minister Stephen Harper . Justin received the award and posed for pictures while wearing a backwards baseball cap and overalls with one shoulder strap undone. The singer later tweeted, "I met the Prime Minister in overalls lol," and included a photo of the big moment.
Justin was wearing the outfit because he was about to go on stage, but many who saw the photo wondered via Twitter why he didn't take the time to change. Some accused him of being disrespectful, but he may have been anticipating that. Before the meeting with Harper, he'd posted a photo of himself in his outfit on Instagram and written, "I hope you hate my style."
The singer's parents and grandparents were with him at the ceremony and also posed for photos with Harper, so they apparently didn't have a problem with his unorthodox fashion sense.
The Diamond Jubilee Medal is presented to those who have made a "significant contribution" to a particular region of Canada, or to those whose "achievement abroad" brings credit to Canada.
Copyright 2012 ABC News Radio