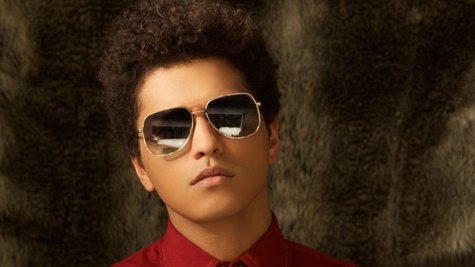 Bruno Mars has recorded plenty of romantic songs, but on his upcoming album Unorthodox Jukebox , he wanted to go in a different direction: towards the pole. And not the North Pole, either.
Speaking to Rolling Stone magazine, Bruno says that one song on the new record, "Money Make Her Smile," was specifically written "to be a strip club anthem." Unsurprisingly, the inspiration for the track was a visit to just such a club. As Bruno tells Rolling Stone , he and his producer went to a strip club in Paris after a show, and when the promoter saw him, he got on the mic and announced, "We have a special guest: Bruno Mars!" Then, Bruno says, things got embarrassing.
"They played 'Just the Way You Are,'" Bruno recalls. "That's the worst song to hear in that environment, so I resolved to write a good one." His producer, Diplo , adds, "He wanted to have something for the club, that has some noise on it and an 'I don't give a [bleep]' feel.'"
But don't worry: there are still ballads on the album. One of them, "When I Was Your Man," is an intense breakup song. Bruno says, "When we started the record, I was like, 'I'm never singing another ballad again,' but that came from the gut -- it's the most honest, real thing I've ever sang."
Unorthodox Jukebox will be out December 11.
Copyright 2012 ABC News Radio