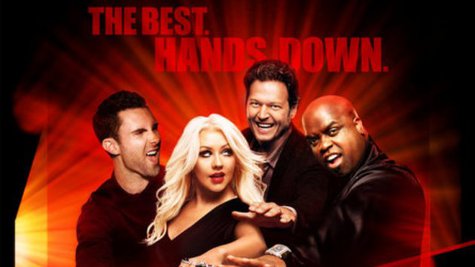 On Monday's episode of The Voice , the Top 8 singers performed in front of a live audience in the hope of securing enough of America's votes to stay in the contest. Two more vocalists will be eliminated by the end of Tuesday's live results show, and no judge is guaranteed a spot for one of their acts in the finals.
There was also a special performance by 50 Cent , who was joined by Adam Levine for his new song "My Life."
There were a couple of nice moments on Monday's show. Singer Bill Withers made a brief appearance to thank Nicholas David for covering his hit song "Lean on Me" last week, and contestant Terry McDermott got a surprise from his wife. McDermott was about to address the camera to send a birthday greeting to his wife, when she and their little boy appeared to give him a big hug.
This season, if any artist's song is featured in the iTunes Top 10 by the end of voting on finals night, that artist's iTunes votes will be multiplied by 10, which could give them a big advantage.
The acts representing each coach/mentor are:
Adam Levine: Amanda Brown , Melanie Martinez
Christina Aguilera : Dez Duron
Cee Lo Green : Nicholas David, Trevin Hunte , Cody Belew
Blake Shelton : Cassadee Pope , Terry McDermott
Here are some of Monday's highlights:
Team Christina:
-- Dez Duron is Christina's "last man standing." He is a former Yale football star who is hoping to prove to his father that moving to the world of music is worth the risks involved. He sang a swing version of "U Smile," by Justin Bieber . Cee Lo said singing was in Dez's heart but this was not his best performance. Adam appreciated Dez's "tunnel vision" for walking away from college to follow his music dreams. Christina said Dez "killed it, killed it, killed it," and she made an impassioned plea to voters for him to make it to the final.
Team Blake:
-- Scottish rocker Terry McDermott took on a song made famous by his mentor Blake Shelton. He wanted to show his country side with a version of "Over." Christina said Terry has always been a solid vocalist who uses his entire range but she described the song choice as "unexpected." Adam joked at Blake's expense, "so that's what that song was supposed to sound like." Blake said it was indeed amazing to hear the song sung "the way it was meant to be."
-- Teenager Cassadee Pope topped the iTunes chart last week. She said Blake has become like a "crazy uncle" to her. She chose Michelle Branch 's "Are You Happy Now?" Cee Lo said that Cassadee "could win this thing." Adam agreed that Cassadee is the "front-runner." Blake said America was seeing "something important" and applauded her performance, thanking her for being on his team.
Team Adam:
-- Amanda Brown, who recently moved out of her parents' house to live on her own, celebrated her independence with a rocked-up version of Adele 's "Someone Like You." Blake was pleased that Amanda made the song her own. Christina thought the vocal was powerful and different. Adam appreciated the risk Amanda took with the arrangement and thought that she "knocked it out of the park."
-- The youngest singer this season is Melanie Martinez. She said she was going through a personal breakup and wanted to sing a song to channel her feelings. She chose to do an acoustic version of "Too Close," by Alex Clare . Blake said that Melanie's voice melted him. Christina thought the song fit Melanie "like a glove." Adam noted that Melanie presented herself in an artful way and congratulated her on a personal performance.
Team Cee Lo:
-- After being rejected by record companies in Nashville, outgoing showman Cody Belew took on a song from one of his heroes, Freddy Mercury ; he performed "Somebody to Love," by Queen with a gospel choir. Adam recognized how difficult the song was to perform but thought Cody was "great." Blake noted how far Cody has grown in the contest. Cee Lo said Cody had done a "wonderful job," and pulled off the song with "poise and confidence."
-- Trevin Hunte was looking for another "big moment" and chose the power ballad "The Greatest Love of All," made popular by Whitney Houston . Cee Lo reminded him of the legacy of the song, which Trevin took to heart. He was accompanied by a string section and a choir. Adam hoped that when he dies he hopes to find Trevin singing in heaven. Blake said Trevin was the guy to beat. Cee Lo was proud of another wonderful performance.
-- Nicholas David announced that he's about to become a father for a third time. Last week, Nicholas sang the Bill Withers song "Lean on Me, " so as a special "thank you" surprise, the legendary soul man turned up to help Nicholas in his rehearsals. This week, Nicholas sang Marvin Gaye' s "What's Going On." Adam loved the element that has been brought to the show by Nicholas. Blake thanked Nicholas for letting the show introduce his voice to the nation. Cee Lo was pleased that Nicholas' soulful sound could be a healing power.
The Voice returns to NBC on Tuesday at 8:00 p.m. Eastern time, when The Muppets will join in the fun.
Copyright 2012 ABC News Radio