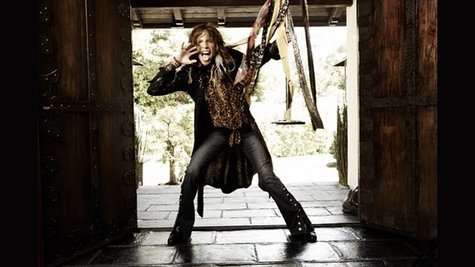 In the Steven Tyler vs Nicki Minaj feud, Steven Tyler is the first one to blink. The former American Idol judge has apologized to current judge Nicki for a comment that he made which she construed as "racist."
As you may recall, Steven initially told MTV that he didn't think there was enough camaraderie among the new American Idol judging panel, and wasn't sure if the new judges were able to be as nurturing with new talent as he and Jennifer Lopez were. He added that if rock legend Bob Dylan had tried out for the show, Nicki "would have sent [him] to the cornfield."
Nicki subsequently told Steven to "go f**k himself" on Twitter, and said he was racist because he implied that she wouldn't have liked Dylan just because she's a black rapper. But now, in an interview with the Canadian entertainment show eTalk , Tyler says he didn't mean that at all.
"I apologize if it was taken wrong Nicki," said the Aerosmith frontman. "I was just saying that if Bob Dylan came on the show, he'd have been thrown off. Maybe I spoke out of turn, but racist I'm not, Nicki."
Indeed, Tyler has nothing against black rappers. His willingness to collaborate with hip-hop legends Run-DMC on a groundbreaking duet version of "Walk This Way" in 1986 is often pointed to as a reason why rap was able to cross over to the pop music mainstream.
Copyright 2012 ABC News Radio