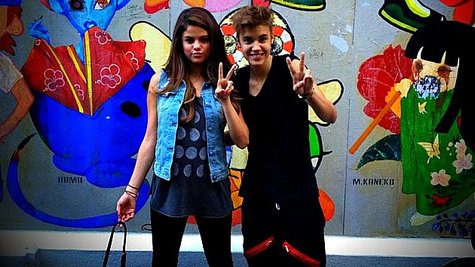 Justin Bieber and Selena Gomez: on or off? It's beginning to look like the couple is definitely back on, since they were seen kissing each other in New York City Tuesday night. However, that doesn't mean a cozy Christmas together is on tap for the two, either.
People magazine reports that both The Bieb and Selena were in New York on Tuesday: she attended UNICEF's annual Snowflake Ball, while he treated his entourage to an Italian dinner. Then around midnight, reports People, they arrived together at Marble Lane, the restaurant in the lobby of New York's Dream Hotel.
A source tells the magazine, "At first they were quietly talking and then they started kissing. They were smiling, definitely seemed happy!" In addition, a source tells E! Online that after that, the couple partied at the hotel's PH-D nightclub.
However, at the Snowflake Ball, Selena told Entertainment Tonight that she and Justin didn't have any special plans this Christmas. "No, no, that'll just be me this year," she said, adding, "I'm gonna go home. I want to go home, and sleep and eat a lot of food with my grandparents. It'll be awesome."
In retrospect, it wouldn't be that unusual if the two didn't spend Christmas together given that Selena and Justin's families live in two different countries.
When asked by E! News if she's found a way to deal with the constant gossip about her and Justin's relationship, Selena said, "I don't. I just smile."
Copyright 2012 ABC News Radio