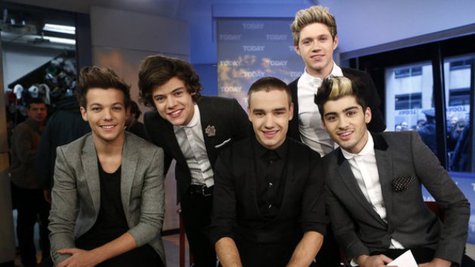 One Direction fans are thrilled that their boys will be on the big screen next summer in a new 3D movie directed by noted filmmaker Morgan Spurlock . But the 1D guys are happy that there'll be someone documenting their every move -- so they don't have to do it.
Speaking to MTV, Liam Payne said, "When we left home to do X Factor , our parents were like 'Make sure you take loads of pictures,' but we've got a film to do that for us now so we can be lazy." All kidding aside, though, Louis Tomlinson says the movie will make a great time capsule of the most exciting time of their lives.
"It's going to be amazing for us to look on in like however many years and just be like 'This is when I was a lad,'" Louis told MTV.
As for what the movie will be like, Niall Horan predicts, "It's going to be a concert movie, but with [more of] a documentary side than concert side. We [want] to...get our personalities across. Because the fans know us, but we want them to know us deeper."
The as-yet untitled One Direction film will be in theaters August 30.
Copyright 2012 ABC News Radio