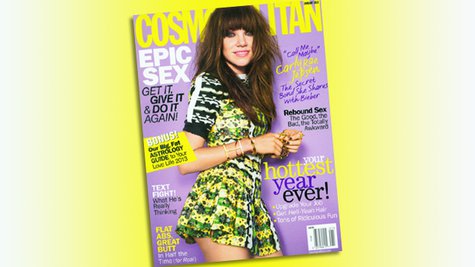 Carly Rae Jepsen graces the cover of the January issue of Cosmopolitan , and inside , the Canadian singer/songwriter talks about her rise to fame, her benefactor Justin Bieber , her boyfriend and her hopes for her career going forward.
"For me, the goal of music has never been 'I need to be the biggest superstar in the world.' It was 'I want to spend my life doing this, and I want to make a career that I can live off of so I don't have to tend bar and waitress to make this fly,'" Carly tells Cosmo, adding, "I don't want to be Cinderella for a night. I want to be Cinderella for life."
This Cinderella prefers not to wear glass slippers on stage, though. Addressing criticism that she dresses too young for her age -- 27 -- Carly points out, "When I'm on stage, I can't dance in 4 1/2 inch heels so, yeah, I'll generally sport flats. I'm 5 feet 2, so yeah, I'm going to look a little more playful. But I don't think that means I'm trying for an age younger than I am."
Actually, Carly tells Cosmo that she takes all those comments about how young she looks as compliments. "If people think I look younger, then that's great; I'm stoked," she says. "When I look in the mirror, I see all of the years attached to that face, and I'm content with me."
As for tour mate Justin Bieber, the guy basically responsible for bringing "Call Me Maybe" to the world, Carly says, "I never get tired of being asked about him. I'm forever indebted to him for the lovely boost that he's given me."
Carly's current single is "This Kiss," which she co-wrote, with, among others, LMFAO 's Redfoo and musician Matthew Koma , who also happens to be her boyfriend. She tells Cosmo , "Redfoo is our Cupid –- a cupid in zebra-print pajamas! Foo's awesome. He ended up introducing me and Matthew."
The new issue of Cosmo hits newsstands December 4.
Copyright 2012 ABC News Radio