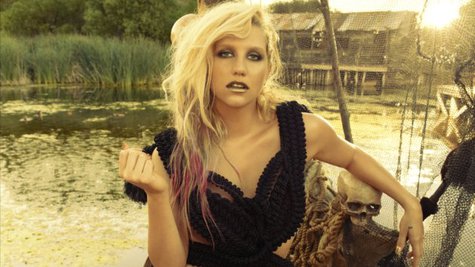 Ke$ha has said in the past that she's created handmade jewelry and clothing out of her fans' teeth, and now she's taking the next logical step: she's launching her very own jewelry line.
Created in partnership with the Charles Albert brand, the line, called Kesha Rose by Charles Albert, will arrive in stores next summer. As you might expect, the designs will be out-of-the-ordinary. In fact, the pieces will feature what's described as "metal-cast human teeth," as well as fossilized shark teeth, skulls, arrowheads, turquoise and natural stones.
"The design process was so fun," says Ke$ha in a statement. "Going to the [Charles Albert] office was like a crazy playground for me – so many fun stones and colors and weird objects. We just sat around and played with all of it for a few days and ended up with a sick collection of pieces in the end. I could not be more excited."
Ke$ha, who's been wearing Charles Albert designs for several years, added that she's always found the company's pieces "fun and massive" and likes that they "make such a wild statement."
Her new line will feature necklaces, earrings, "unique" pendants, chunky bracelets, oversized knuckle rings and medi-rings, and will range in price from $30 to $750. Most items will sell for under $100.
Copyright 2012 ABC News Radio