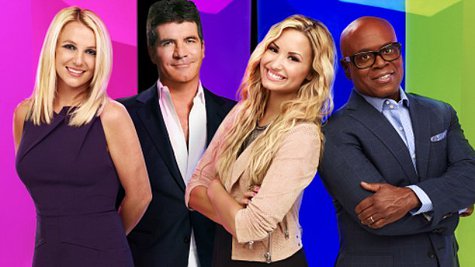 The Top 8 acts performed for America's votes on Wednesday's edition of The X Factor . Each judge/mentor has two acts apiece vying for the top prize of a $5 million recording contract. This week's theme was "Number Ones."
There will be a double elimination on Thursday's results broadcast.
Wednesday's show also featured a clip from the world premiere of the new video for "Scream & Shout" by will.i.am featuring Britney Spears . The clip of the video showed multiple Britneys, dressed in a black skirt and top showing a bare midriff. Britney wears her hair pulled off her face, and sports gold jewelry to match the predominantly black, gold and white theme of the video.
Here's a rundown of Wednesday's X Factor performances:
Teens/Britney Spears:
-- Diamond White decided to move away from her familiar ballads to sing an up-tempo Whitney Houston song – "I Wanna Dance with Somebody (Who Loves Me)." She was advised by Britney to smile and have fun. L.A. said Diamond started slow and gave an 'A' for effort and a 'B' for execution. Demi wanted to see a little more in Diamond's performances. Simon disagreed and thought Diamond had put in a great performance and was aiming for the "number one spot."
-- After topping the leader board and receiving a standing ovation from the judges last week, Carly Rose Sonenclar hoped to keep up her momentum. Her brother paid her a visit during rehearsals to offer encouragement. She chose to sing Adele 's "Rolling in the Deep." L.A. said Carly is "insanely talented" but this was not her best performance. Demi said Carly was genuine and "amazing" for a 13-year-old. Simon said the song became "sensational," and joked that Carly is so talented, she must be "an alien" from another planet.
Over 25s/ L.A. Reid :
-- Vino Alan was number three on last week's leader board and had told L.A. he was comfortable with that. L.A. challenged him not to be complacent. Vino had a last minute change of song to "You've Lost That Lovin' Feeling," by The Righteous Brothers . Britney thought she had seen the same thing every week. Demi agreed and said she "wasn't totally entertained." Simon was bored with the song and hated the arrangement.
-- Tate Stevens lost his number one slot on the leader board last week, and dropped to number two. The country singer wants to make it big to support his family. L.A. advised him not to be a one-trick pony. Tate accompanied himself on guitar for Keith Urban 's "Somebody Like You." Britney was sure that Tate would be getting a country music award someday. Demi said she appreciated the fun that Tate projected from the stage. Simon said Tate was back in the contest.
Young Adults/ Demi Lovato:
-- Paige Thomas vowed to improve from last week's show and was advised by Demi to tone down her over-the-top performances. Paige didn't take her mentor's advice and still employed backup dancers, dry ice and extravagant lighting. She sang a version of "Never Gonna Give You Up," by Rick Astley . L.A. said Paige had "found her voice." Britney acknowledged the risk Paige took with the song arrangement and thought it worked. Simon liked the song and her "street" look.
-- CeCe Frey had survived being in the bottom two last week. This week, she wanted to figure out what went wrong. Demi advised her to find her fire again and stay on point with her vocals. She performed a version of "Lady Marmalade," by Labelle . L.A. grudgingly said that he enjoyed the song. Simon was troubled by the staging, which he found "too distracting," and advised CeCe to pack a suitcase. Demi disagreed and said people younger than Simon would understand CeCe's performance.
Groups/ Simon Cowell:
-- The girls of Fifth Harmony have been bonding since they were put together as a group during the early stages of the contest. Alley learned her grandfather had passed while she was in rehearsals and she was comforted by her bandmates. They sang the Kelly Clarkson song "Stronger (What Doesn't Kill You)." L.A. thought the performance was just "good" but didn't hear any vocal harmony. Britney could tell the girls had worked hard and it showed. Demi thought this was one of their best performances so far.
-- Emblem3 has been hovering just outside the Top 3 on the leader board. They were shown out shopping and getting mobbed by fans at a Los Angeles mall. They sang a version of "I'm a Believer," by The Monkees . L.A. said he would sign them to his record label. Britney said she was "a believer" in the group but didn't like the song. Demi thought they needed to show more variety in their act. Simon disagreed and said Emblem3 had turned into "real pop stars." Demi and Simon argued when Demi said that Emblem3 lacked spark and that, being a 20-year-old girl, she should know. Simon bluntly pointed out "I've sold over 300 million records, sweetheart."
The X Factor returns to Fox on Thursday at 8:00 p.m. Eastern time.
Copyright 2012 ABC News Radio