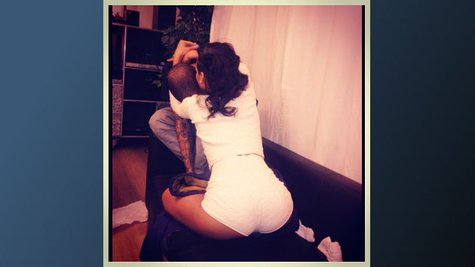 Though Rihanna insists that what goes on between her and Chris Brown is "Nobody's Business," the singer seems totally "Unapologetic" about flaunting their affairs on Twitter and Instagram.
She was with him Thursday night following his Carpe Diem concert in Frankfurt, Germany, and shared a photo of them sharing a couch after the show. Rihanna, in tiny white shorts and a matching top, has her arms wrapped around Chris' neck in the snapshot, which she captioned, "i dont wanna leave!!! Killed it tonight baby!!"
Rih, who met up with Chris in Berlin around Thanksgiving, preceded that photo with a stylized post that read, "Home is where the c**k is."
The response to Rihanna's recent posts have been mixed. One Instagram user wrote, "Im jelly so happy for you..." Another person chimed in with, "You obviously don't have self respect."
Of course, Rihanna's not the only one who's Instagram-happy. A couple days before the hug picture went up, Chris posted a photo of his new Rolex watch. Rihanna had posted a picture of her own version of the timepiece just hours before him.
Copyright 2012 ABC News Radio