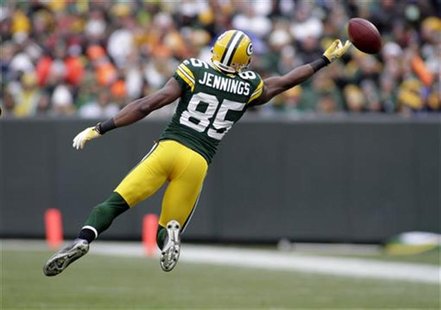 GREEN BAY, WI (WSAU) Green Bay Packers' receiver Greg Jennings says he's frustrated by his recent injuries – but he says he's trying not to let it overwhelm him. The seventh-year pro missed two weeks of training camp with a concussion. In the season opener, Jennings suffered a groin injury – and he aggravated it last Sunday in the win over New Orleans.
He's expected to miss this Sunday's Packer game at Indianapolis. He says he won't return until he's back to 100-percent. This is the final year of Jennings' contract, and he knows he's missing a golden opportunity to make a great impression – if not for the Packer front office, then for other teams.
Jennings has 12 catches this year, averaging just six-and-a-yards. In his first six years, he averaged almost 16 yards per catch.
Meanwhile, quarterback Aaron Rodgers says he can see just fine, after he got poked in the eye last Sunday. He said he felt good as soon as he got some eye drops on the sideline. Rodgers only missed one play in the win over the Saints. And he says he will not wear a protective shield on Sunday when the Packers play at Indianapolis.
Besides Jennings, rookie safety Sean Richardson was the only Packer to sit out yesterday's practice. Packers' nose tackle B-J Raji was fined 78-hundred-dollars by the N-F-L for throwing a punch at a New Orleans offensive lineman last Sunday. Raji said the fine was not as bad as he expected. He said it could have been higher – and he could have been ejected for throwing his punch. Raji said he was upset that the Saints' lineman threw a block at his knees on a field-goal try. Raji was flagged for a personal foul on the play. He admitted after the game that it was wrong to react by punching the opponent.