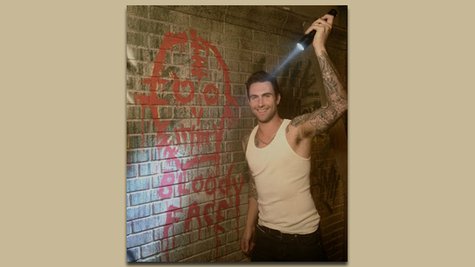 What exactly is Adam Levine 's role in the new season of American Horror Story , called American Horror Story: Asylum ? It appears to require him to take pictures, have sex and -- possibly -- meet a horrible end.
In a new trailer posted on the FX show's Facebook page , the first image we see is of Adam with a camera, saying, "Last stop on the Haunted Honeymoon tour!" As previously reported, Adam and actress Jenna Dewan Tatum play Leo and Teresa, a newlywed couple enjoying this so-called "tour." The final stop is the now-deserted Briarcliff Manor, a former institution for the criminally insane in Massachusetts.
"Legend has it that once you were comitted at Briarcliff, you never got out," says Jenna's character, and she and Adam make their way through the creepy looking ruins of the place. Then, she suggests, "We should totally do it." "You are so demented," says a delighted Adam as he unzips her sweater. We next see them in a compromising position, but then Jenna gasps, "What is that ?" Adam looks over his shoulder, with a scared look on his face. Uh-oh.
Entertainment Weekly has reported that a serial killer nicknamed "Bloody Face," who wears a mask of his victims' flesh, a black nightie and long gloves, will target Adam's character for a horrible death. What will happen? Tune in to the series premiere October 17 at 10 p.m. to find out.
Copyright 2012 ABC News Radio