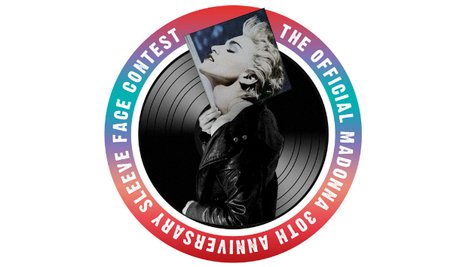 On October 6, 1982, Madonna released her very first single, "Everybody," which didn't do much on the regular Billboard chart, but became a huge dance club hit. On Saturday, Madonna will mark the 30th anniversary of this career milestone, and she's inviting "everybody" to join her in celebrating with a cool contest.
Fans are invited to pick their favorite Madonna album or single, and create their own cover art for it. You can use the original artwork as a jumping-of point, or add whatever images you prefer. When you're done, email your work of art to madonnacontests@gmail.com , with "MY MADONNA SLEEVE FACE" as your e-mail's subject line. Your email must be received before 11:59 p.m. ET on October 19, and must include your name, full mailing address and phone number.
What's in it for you? A bunch of cool prizes. Madonna will pick her favorite 10 photos, and the grand prizes available include a huge package with tickets to an upcoming show, a football helmet signed by the star right after her Super Bowl performance, a pair of her Truth or Dare brand shoes, a DVD set of her Addicted to Sweat exercise series, and a month's supply of Vitacoco.
Other packages include albums, T-shirts, DVDs, tour books and other swag, so it's definitely worth letting your creativity flow. In other words, as Madonna sang 30 years ago Saturday, "get up and do your thing."
Copyright 2012 ABC News Radio