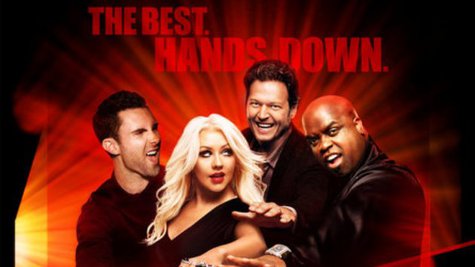 A former backing vocalist for Adele became one of the first contestants to be subject to the new "steal" rule as NBC's The Voice reached the first of its battle rounds on Monday night.
Hopefuls Collin McLoughlin and Amanda Brown, a former backup singer for Adele and Alicia Keys , both had lifelines thrown to them and they switched teams to stay in the contest. Meanwhile, Terry McDermott , Bryan Keith , De'borah , Diego Val , Trevin Hunte and Gracia Harrison were all picked by their mentors to advance to the live solo rounds.
"The Steal" is a new feature this season, whereby coaches can scoop up a certain number of contestants who have been rejected by rival coaches. If two coaches want the same person, it reverts back to the contestant's choice just like in the blind auditions.
In the battle rounds, the coaches pit two of their own team members against each other to sing the same song together in front of a studio audience. After the vocal duel, the coach must choose which of his or her singers will advance. At the end of the battle rounds, only the strongest members of each coach's roster remain and proceed to the live stage shows.
The coaches are now joined be joined by guest mentors. Adam Levine's team will be co-mentored by Mary J Blige ; Cee Lo Green is joined by Rob Thomas ; Michael Bublé helps to coach Blake Shelton' s team; and Green Day 's Billie Joe Armstrong is on duty to help guide Christina Aguilera's contestants.
Here are some of Monday's highlights:
-- For Team Blake, country singer Casey Muessigman was up against Scottish rocker Terry McDermott on the song "Carry On Wayward Son," by Kansas . They were assisted in rehearsals by Michael Bublé. The song reflected both men's singing styles and tough attitudes. Christina said they both showed off their range and dynamics. Blake decided that, as Terry "already knows what his voice is," he should advance.
-- Adam enlisted the help of Mary J Blige to help coach Bryan Keith and Collin McLoughlin. They took on the song "Santeria," by Sublime . Colin needed to put some "danger" into his vocal, Bryan was told to hone his technique on certain notes. Blake thought the battle was "a lot of fun." Adam thought Bryan deserved to move forward. However, Cee Lo and Blake both used their "steal" option, giving Colin a lifeline. Colin decided to join Team Blake.
-- Billie Joe Armstrong of Green Day is helping to mentor Team Christina. De'borah was chosen to sing-off against teammate Nelly's Echo . Their song was "Message in a Bottle," by The Police . De'borah did not know the song and had to work hard to learn it in rehearsals. Cee Lo thought Nelly's Echo had a great voice but De'borah put soul into the song. Christina picked De'borah to advance.
-- Amanda Brown and Trevin Hunte were representing team Cee Lo. They were helped in rehearsals by Rob Thomas of Matchbox 20 . Amanda is a former backup singer for Adele and Alicia Keys. They took on the power ballad, "Vision of Love," by Mariah Carey . The battle had the audience and judges on their feet. Adam immediately committed to trying to steal whomever Cee Lo did not pick. Christina said the performance was outstanding and also took a leap on the steal process. Blake chose to use his steal option, too. Cee Lo chose Trevin to advance on his team, leaving Amanda the luxury to join Team Adam.
-- Also advancing were Diego Val for Team Cee Lo and Gracia Harrison for Team Blake.
The Voice returns to NBC on Tuesday at 8:00 p.m. Eastern time.
Copyright 2012 ABC News Radio