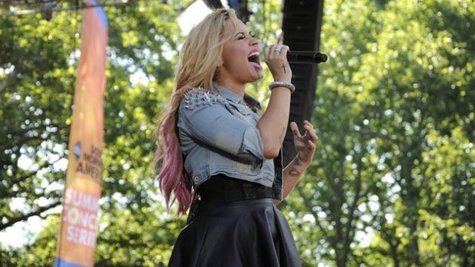 Demi Lovato 's single "Give Your Heart a Break" was her biggest hit yet -- it was even performed on last week's episode of Glee. And as she moves on to her next record, Demi says she wants to stay away from trendy sounds and focus on actual feelings.
Speaking to Teen Vogue , Demi says, "For a long time, I was pretending to be someone that I wasn't, and I was miserable. When I came out and said, 'I'm human, I've got problems, but I'm willing to share them,' that's when I started to really connect. I've just begun working on my fourth album, and I want to do that in my music too."
She explains, "I'm tired of songs that don't have much emotion in them...I want to make something that people will listen to for a while, rather than something that's just trendy. I feel like I've grown as a person, and I want my music to grow with me."
Demi admits that she's "tired of all the dubstep on the radio right now" and predicts it'll be "out in two months." Instead, she's looking to two specific artists for inspiration.
She tells Teen Vogue, "I love the way that Adele has carved out a path for a singer that's very emotional, but I also love how Taylor Swift can do the same thing -- she puts a lot into her songs yet they're still very catchy."
In the Teen Vogue article, Demi also addresses those pesky rumors that she's dating Niall Horan of One Direction .
"He's a really awesome, sweet guy. But he's not my boyfriend," insists Demi. "I'm in a place right now where I really need to focus on myself. Obviously, I'm still going to like people -- or love them -- but I need to not be in a relationship for a while because I need to be okay with being alone first."
The X Factor judge adds, "I'm really happy right now. I never thought it was possible to be happy because of how depressed I was my entire life. But I feel so incredible. It's like I'm living in a dream."
Copyright 2012 ABC News Radio