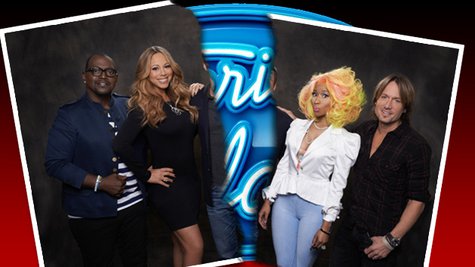 Mariah Carey 's husband Nick Cannon stopped by The View Wednesday to clear up rumors that a feud is brewing between his wife and pop star Nicki Minaj on the set of American Idol where Mariah and Nicki are new judges this season. Not only did the America's Got Talent host refute claims that his wife is dueling with the "Starships" singer, he also insinuated that American Idol producers leaked the fight footage to gossip site TMZ.com, which he said "saddened" him.
"If you ask my opinion, I've produced tons of television, I don't know anybody who can stand with a camera phone right in front of the monitor and record it and nobody say anything and it just magically gets on TMZ," Nick said to the co-hosts, later confirming that he believes producers were behind the leak.
Although he admits a fight occurred, Nick said, "I honestly don't even consider that a big feud," and admitted that efforts to beef up Mariah's security team was a recommendation from "people."
The 32-year-old host, who was recently diagnosed with lupus nephritis, a blood disorder, said that he'd like the public and fans to pay more attention to what American Idol is about, such as " young people striving for their dreams, getting guidance from experts [and] setting example for the family."
"And then we focus on this, it's kind of unfortunate," he continued.
Copyright 2012 ABC News Radio