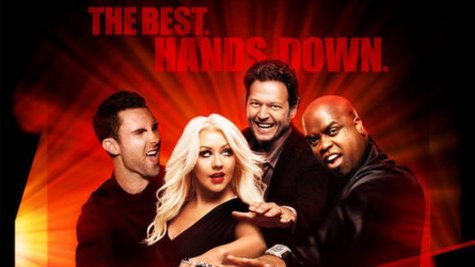 A quirky theatrical singer became yet another contestant to benefit from the new "steal" rule as NBC's The Voice continued its battle rounds on Tuesday night.
After Caitlin Michele was dropped by her mentor Adam Levine following a battle round performance, coaches Blake Shelton and Cee Lo Green tried to "steal" her for their teams so she could remain in the competition. She chose to go with Cee Lo.
Cody Belew , Aquile , Rudy Parris , Melanie Martinez and Celica Westbrook all won their respective sing-offs to advance to the next stage of the contest.
"The Steal" is a new feature this season, whereby coaches can scoop up a certain number of contestants who have been rejected by rival coaches. If two coaches want the same person, it reverts back to the contestant's choice just like in the blind auditions.
In the battle rounds, the coaches pit two of their own team members against each other to sing the same song together in front of a studio audience. After the vocal duel, the coach must choose which of his or her singers will advance. At the end of the battle rounds, only the strongest members of each coach's roster remain and proceed to the live stage shows.
The coaches are now joined be joined by guest mentors. Adam Levine's team will be co-mentored by Mary J. Blige ; Cee Lo Green is joined by Rob Thomas ; Michael Bublé helps to coach Blake Shelton's team; and Green Day 's Billie Joe Armstrong is on duty to help guide Christina Aguilera's contestants.
Here are some of Tuesday's highlights:
-- For Team Cee Lo, two artists with very different backgrounds went head to head. Street dancer Domo took on farm boy Cody Belew. They were helped in rehearsals by Rob Thomas with the Lady Gaga song "Telephone." After the battle, Blake said that they both had stage presence. Cee Lo decided he would take Cody forward to the live knockout rounds.
-- In another unusual pairing, Christina matched up pop-soul singer Aquile with 15-year-old Nathalie Hernade z. Their chosen song was James Morrison 's "You Give Me Something." Billie Joe Armstrong was on hand to guide the vocal sessions and help a shy Nathalie come out of her shell. Cee Lo thought Nathalie had a sweet voice and Adam said Aquile was "ready." Christina had a tough choice but went with Aquile.
-- Caitlin Michele and Melanie Martinez both have an artsy, quirky style. Adam gave them the song "Lights," by Ellie Goulding . Mary J. Blige was on hand to offer advice during the rehearsal stage, where both women struggled with both pitch and lyrics. Blake said he had a hard time deciding between the performers because they had such unique styles. Adam was pleased that the two improved so much since rehearsals. He picked Melanie to move on with his team. However, Blake and Cee Lo both used their "steal" option, giving Caitlin the choice to stay in the contest. She joined Team Cee Lo.
-- Celica Westbrook advanced with Team Christina and Rudy Parris continued his progress with Team Blake.
The Voice returns to NBC on Monday at 8:00 p.m. Eastern time.
Copyright 2012 ABC News Radio