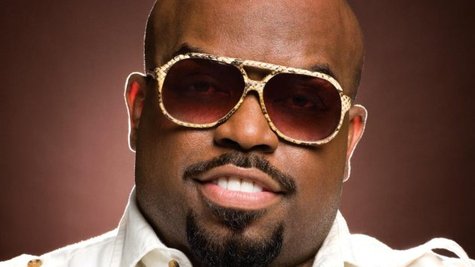 Cee Lo Green hit Sin City Wednesday night as the Cee Lo & Friends concert took place at the Planet Hollywood Casino in Las Vegas.
The show was intended as a preview of Cee Lo's upcoming Christmas album, Cee Lo's Magic Moment , which will be released October 30, as well as a sneak peek at his upcoming Vegas residency Cee Lo Green Is Loberace , which launches February 27 at Planet Hollywood.
As expected, the show featured guest appearances by Rod Stewart , The Muppets and nearly 20 singers from The Voice . Eric Benet also surprised the crowd with an appearance.
Cee Lo kicked off the concert about 30 minutes late, appearing on stage dressed in a red patent leather suit. He later told the crowd he got his "Christmas outfit from an S&M store." The heat eventually proved too much, however, and he shed the long jacket after six songs.
While Cee Lo told the crowd early on that he'd invited singers from seasons one, two and three of The Voice to share the spotlight with him, he brought out only one or two at a time. It wasn't until the finale of his main set that all of the invited Team Cee Lo contestants joined him, along with a cast of Muppets, for the song "All I Need Is Love."
The entire set ran about 80 minutes. If you missed it, you can see it online starting November 26 on Warner Music's YouTube Channel .
Here's a partial set list:
"Santa Claus Is Coming to Town"
"This Christmas" (featuring Jamar Rogers and James Masone)
"What Christmas Means to Me"
"The Christmas Song" (sung to Kermit and Miss Piggy)
"You're a Mean One Mr. Grinch" (featuring Tony Vincent)
"Run, Run Rudolph" (featuring Nakia)
"Merry Christmas Baby" (featuring Rod Stewart)
"River" (featuring Niki Dawson and Vicci Martinez)
"White Christmas"
"Mary, Did You Know?"
"Silent Night" (featuring Eric Benet)
"All I Need Is Love" (featuring The Muppets and all contestants from The Voice )
Encore:
"Crazy/Natural Blues"
"Forget You"
Copyright 2012 ABC News Radio