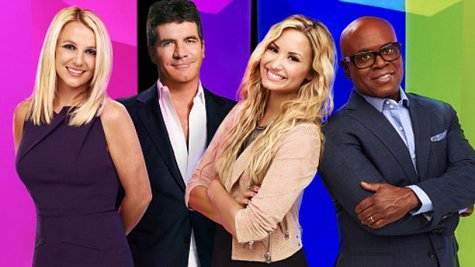 Guest mentors Justin Bieber , will.i.am , Marc Anthony and Nick Jonas were introduced for the first time on Wednesday's edition of The X Factor .
Judges Simon Cowell , L.A. Reid , Britney Spears and Demi Lovato also learned from the show's producers which of the four competition categories they would welcome to their homes. Each category contains six acts.
Before moving on to their homes, the judges had the tough task of narrowing the field from the boot camp auditions. Just 24 acts have survived to make it to the judges' homes, where two acts will be eliminated from each category by the end of the round.
Several of the solo rejects were thrown a lifeline when they were formed into new singing groups, which will compete in the Groups Category. The newly-formed groups are: Lylas , Playback and Lyric 145 .
There was drama when L.A. Reid learned he was given the Over-25s category to coach, He was visibly disappointed with the talent pool available to him, but claimed he would still win the contest.
Here's a rundown of the categories and their acts:
-- Demi Lovato coaches the Young Adults: Cece Frey , Willie Jones , Jennel Garcia, Nick Youngerman , Paige Thomas and Jillian Jensen . Nick Jonas will serve as guest mentor.
-- L.A. Reid coaches the Over-25s: Jason Brock , Daryl Black , David Correy , Tara Simon , Tate Stevens and Vino Alan . They will be mentored by Justin Bieber and his manager Scooter Braun .
-- Simon Cowell coaches the Groups: Sister C , Dope Crisis and Emblem3 . They are joined by Lylas, Playback and Lyric 145, and will be co-mentored by Marc Anthony.
-- Britney Spears coaches the Teens: Beatrice Miller , James Tanner , Cary Rose Sonnonclar , Diamond White , Reed Demming and Arin Ray . Will.i.am will be the group's celebrity mentor.
Here are some of Wednesday's performance highlights:
At Demi's home – Young Adults:
-- Jillian Jensen performed "Gravity,' by Sara Bareilles . Demi thought Jillian might not have been "genuine" enough.
-- Nick Youngerman took on Kesha 's Tick Tock." Nick Jonas enjoyed the performance. Demi was not sure if she loved it or was annoyed by it.
-- Cece Frey was told in earlier auditions by Demi that she had a "girl crush" on her. At Demi's house, Cece was told to show her vulnerable side. She chose to sing "Sexy and I Know It," by LMFAO . Nick thought that Cece took Demi's direction well.
At Simon's home - Groups:
-- Emblem3 are brothers who sing together. They arranged a version of The Police song "Every Little Thing She Does is Magic." Simon thought the boys "lost their way a bit." Marc Anthony liked them.
-- Lyric 145 is one of the groups put together by the judges at boot camp. They performed "Party in the USA," by Katy Perry. Simon thought it was "sloppy in parts," but liked the look and style of the group. Marc also liked the group's look and style.
-- Lylas is another of the groups assembled by the judges. It's made up of five former solo contestants. They sang "Impossible," by Shontelle . Simon and Marc thought the band was "unbelievable" and appeared to indicate that they thought Lylas was the clear favorite of the groups.

The X Factor returns to FOX on Thursday at 8:00 p.m. Eastern time.
Copyright 2012 ABC News Radio