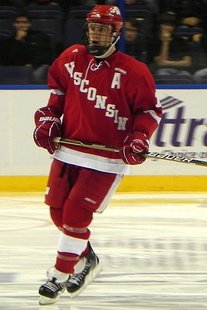 GREEN BAY, WI (WSAU) The Wisconsin men's hockey team will open its regular season tonight in Green Bay. They'll play Northern Michigan the next two nights at the Resch Center. The Badgers are ranked 15th by U-S College Hockey Online, and they're coming off a 5-nothing exhibition win over the national Under-18 squad last weekend.
The Badgers are still waiting to learn the fate of freshman forward Nic Kerdiles. The N-C-A-A declared him ineligible for the season for violating amateurism rules. Media reports said he might have been promoting a specific energy drink in a photo on his agent's Twitter account. Wisconsin has appealed the N-C-A-A's ruling – and if they lose it, Kerdiles is expected to play in Canada to continue his development as a second round draft pick with Anaheim.
Wisconsin will face a Northern Michigan team that went 17-14-and-6 a year ago, and is projected to finish eighth in the Central Collegiate Hockey Association.