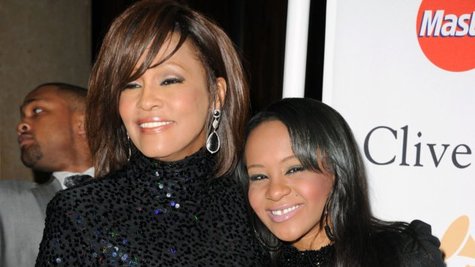 While it remains to be seen whether Whitney Houston 's daughter, Bobbi Kristina , is engaged to her godbrother-turned-boyfriend Nick Gordon , the two were spotted together during the Thursday night taping of We Will Always Love You: A Grammy Salute to Whitney Houston , according to USA Today .
Taking place at Los Angeles' Nokia Theatre, the CBS special brought Jennifer Hudson , Usher and Britney Spears to the stage for special performances of some of Whitney's greatest hits.
Jennifer took the stage, rocking teased hair, a sparkly jacket and leather gloves in homage to Whitney's style circa 1987. According to USA Today , Jennifer performed some of Whitney's uptempo material from that era, including a medley of "I Wanna Dance with Somebody," "How Will I Know" and "I'm Every Woman."
The newspaper reports that Usher performed Whitney's "I Believe in You and Me," while presenter Britney Spears recalled how she used to annoy her little brother by singing Whitney's songs all the time. One of them, "I Have Nothing," earned Britney her record deal.
The performances will be shown, along with rare video footage, family photos and intimate testimonials, as part of CBS' upcoming one-hour special. We Will Always Love You: A Grammy Salute to Whitney Houston will air November 16 on CBS at 10 p.m. ET.
Copyright 2012 ABC News Radio