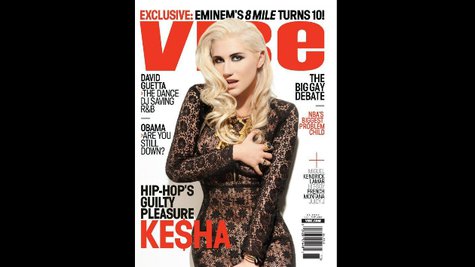 Ke$ha graces the cover of the new issue of Vibe magazine , and inside, she talks about wanting to shed her party-girl image. "I drink like a champion. But I can also do other stuff," she tells Vibe . "I'm not a train wreck, I'm just having fun."
The first step in changing that image, she says, is her new album, WARRIOR, due December 4. "The first record was a celebration of partying and being young, but this record's a better look at my personality," K-Dolla explains. And her producer Dr. Luke agrees, telling the magazine, "She doesn't need to do anything to let people know she's more than just a party girl. The music will speak for itself."
Some of the album's songs, including the first single "Die Young," are about living in the moment, and Ke$ha explains that it's a result of her taking stock of where she's at right now. "I've really just been doing a lot of thinking about life," she says, noting that she was slammed by critics for her first album. "I did some soul-searching and realized nothing I'm doing is negative, it's actually super positive."
She points out, "You can change peoples' mood in a three-and-a-half minute song. So why not spread positive energy and be funny? Let [the haters] be miserable. Anyone who wants to have a good time, let's f**king do this."
According to ABCNews.com , Ke$ha is the first living white female artist ever to appear solo on the cover of Vibe magazine. Amy Winehouse covered the magazine after she passed away last year, and in 2005, Gwen Stefani posed for the cover with Pharrell Williams .
Copyright 2012 ABC News Radio