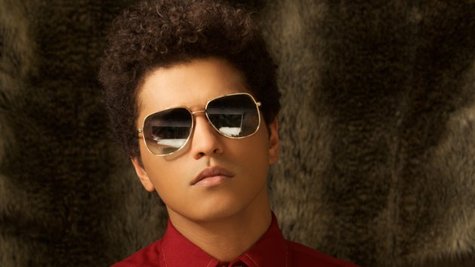 Despite some simulated distortion, there's no need to adjust your screen to watch Bruno Mars ' new video for "Locked Out of Heaven," which he debuted on Monday.
The retro-styled clip first shows Bruno and band mates dressed down and working up a sweat as they perform in a dark club while others dance. Then the video flips to a scene outside the club, where Bruno and crew do a quick photo shoot and then hang out, laughing and cutting up as they shoot dice.
Next, we see Bruno and more friends hanging out backstage before the video cuts to a press conference with Bruno by himself. In between the shots of Bruno and the band, we also cutaways of women as they dance alone and suggestively together. Finally, the video shows Bruno seated behind several microphones. Now rocking a fedora and sunglasses, he is seen smoking as he fields questions from unseen reporters just before "the end" flashes to close the video.
In other Bruno news, on Saturday, he'll be hosting and performing on Saturday Night Live . Bruno's new album Unorthodox Jukebox will be available in stores on December 11.
Copyright 2012 ABC News Radio