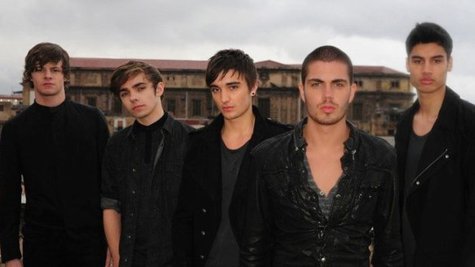 The Wanted have always been a bit more edgy than fellow Brits One Direction, and they really prove it in their brand-new video for their new single,"I Found You." In fact, the clip finds the boy band morphing into a gang of thugs -- and they've even got a "Warning: Explicit Content" banner in the beginning of the clip to give fans a heads up.
The video opens with a shot of a blonde girl who's bound and gagged. Then, we see the five guys in The Wanted walking in slow-mo down a street with a dog. Flashback to a club, where group member Nathan Sykes meets the blonde girl we just saw, as everyone parties around them. The Wanted arrive at a house, tie the dog to a tree and then break down the door. It's the house where the girl is being kept prisoner -- The Wanted to the rescue! But wait, not so fast.
As the guys climb the stairs, they start kicking major butt, beating up all the guys who are guarding the girl, throwing them into furniture and breaking everything in site. Then, Nathan approaches the girl, removes her gag and gives her a kiss. But instead of untying her, he simply plucks a key from her pocket and leaves, blowing her a kiss on the way out.
Then, we flashback to the girl whispering something in Nathan's ear at the club where they met -- evidently some information about the key and what it opens. Next, we see the guys hauling a metal box out of the water and opening it with the key. As jewels are revealed, they all grin, satisfied with their handiwork. End of clip.
Copyright 2012 ABC News Radio