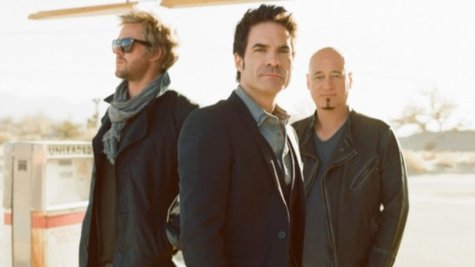 Train seems to be releasing new wines as often as they release new singles these days. The band has just announced their fourth signature wine, called Hella Fine Merlot .
The name of the wine is a reference to a line in the band's song "Save Me, San Francisco": "I never knew all that I had/Now Alcatraz don't sound so bad / At least they have a hella fine Merlot ." The wine was unveiled over the weekend at New York City's Wine and Food Festival, at which the band performed.
Described as having notes of "dark chocolate and black cherry," the Merlot was inspired by a specific surfing area north of Half Moon Bay in San Francisco.
As with all of Train's wines, proceeds from the new one are being donated to Family House , a San Francisco charity that provides temporary housing to families of seriously ill children. It'll be available for purchase in December at SaveMeSanFrancisco.com . At that same website, you can also purchase Train's other wines: Calling All Angels Chardonnay, Drops of Jupiter Red and California 37 Cabernet Sauvignon.
Want something to snack on? Train's signature chocolate bars -- which come in three flavors -- are also available at that same website.
Copyright 2012 ABC News Radio