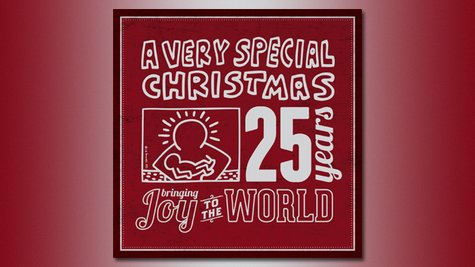 Twenty-five years ago, some of music's biggest names -- including Whitney Houston , Bruce Springsteen , Madonna , U2 and Bon Jovi -- came together to record a very special holiday charity album. It was called A Very Special Christmas, and it raised money for the Special Olympics. The albums kept on coming every few years, each with a new slate of artists, and raised more money. Now, Tuesday sees the release of A Very Special Christmas 25th Anniversary edition, featuring Train , Jewel , Michael Buble , OneRepublic , Jason Mraz , Christina Aguilera , Jordin Sparks and more.
Speaking about their involvement in the project, Train's Pat Monahan tells ABC News Radio, "We were asked to do it. And we've seen that record....in stores for 20 years, you know...[we] always wondered why we weren't a part of it. And finally being asked -- it was a great honor for us, so it was easy to say yes."
Not only is it a prestigious project, but Pat says that A Very Special Christmas is definitely one charity project that you know is doing some major good. In fact, over the years, the album series has raised a whopping $100 million for the cause.
"This is where the Special Olympics, basically, gets the money to put the Special Olympics on," Pat explains. "So, we know that that's a great place to put your time and money."
The song that Train recorded is "Joy to the World," which Pat says was chosen for them by the album organizers. He tells ABC News Radio, "It's never been recorded on any of their albums. So we tried to give it a fresh look and maybe make it a little upbeat and Train-like. So, hopefully, you'll agree! We'll see."
One thing Pat tried to do to make the song more "upbeat" was to corporate a bit of another song called "Joy to the World" -- the classic hit by Three Dog Night -- into the Christmas tune. Unfortunately, nobody else was on board with that idea. "Man, I threw a little bit of that in and it got nixed right away!" Pat laughs. (AUDIO IS EXCLUSIVE)
Here's the track listing for the A Very Special Christmas 25th Anniversary, which is a mix of pop, country and rock:

Train, "Joy to the World"
Lauriana Mae, Jono, Grayson Sanders, "Something in the Air"
Jewel, "Angels We Have Heard on High"
Michael Bublé, "It's Beginning to Look a Lot Like Christmas"
Jordin Sparks, "Do You Hear What I Hear"
Cheap Trick, "I Want You for Christmas"
Rascal Flatts, "Mary, Did You Know"
Wonder Girls, "Best Christmas Ever"
Amy Grant, "Tennessee Christmas"
OneRepublic, "Christmas Without You"
Vince Gill, "Breath of Heaven (Mary's Song)"
Martina McBride, "Please Come Home for Christmas"
Jason Mraz, "Winter Wonderland"
Francesca Battistelli, "December 25"
Dave Matthews,"The Christmas Song (9.18.10, Chicago, IL)"
Christina Aguilera, "Oh Holy Night"
Copyright ABC News Radio 2012