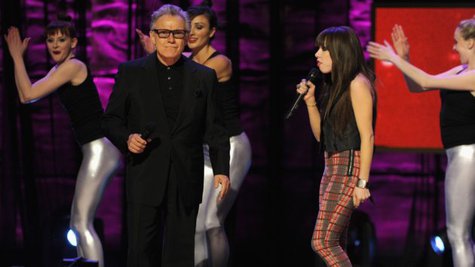 Carly Rae Jepsen has duetted with Owl City on the hit "Good Time" and with Justin Bieber on a song called "Beautiful," which is on her new album Kiss . But this Sunday, you'll get to see her sing "Call Me Maybe" with...acclaimed tough guy actor Harvey Keitel ?
Vanity Fair reports that during last weekend's taping of the Comedy Central charity special Night of Too Many Stars , some of the musical performers were paired with unusual duet partners. We're not sure why, but the organizers paired Carly with the 73-year-old Keitel, best known for his roles in movies like Mean Streets , Pulp Fiction , Taxi Driver , The Piano and Thelma & Louise .
Surprisingly, Keitel told Vanity Fair that he was familiar with "Call Me Maybe" before he sang it with Carly. "My eight-year-old son introduced me to it months ago," he laughed.
The performance will air this Sunday night at 8 p.m. ET on Comedy Central . Katy Perry is also on the bill.
Copyright 2012 ABC News Radio