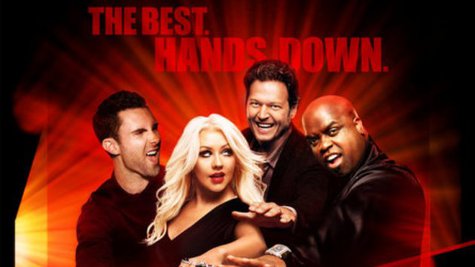 Tuesday's installment of The Voice featured more one-on-one battles between pairs of contestants from the coaches' teams. There was one dramatic steal on Tuesday, made by Christina Aguilera , as she took Alessandra Guercio under her wing. Also advancing in the contest were Liz Davis , Kayla Nevares , Mackenzie Bourg , Michelle Brooks-Thompson , Laura Vivas and Mycle Wastman .
The "steal" allows coaches to scoop up a certain number of contestants who have been rejected by rival coaches. If two coaches desire the same person, it reverts back to the contestant's choice just like in the blind auditions.
Once again, the contestants received advice from celebrity guest mentors: Mary J. Blige , Rob Thomas , Michael Bublé and Green Day 's Billie Joe Armstrong .
Here are some of Tuesday's highlights:
Team Blake:
-- Liz Davis is "as country as they come," according to Blake. She was pitched against country newcomer, Nicole Johnson . They sang "Baggage Claim," as recorded by Blake's wife Miranda Lambert . Michael Bublé was on hand to help the two women get the song in shape. Christina thought both had strong voices and Blake had a tough job separating them. Adam agreed that they sounded alike. In the end, Blake took Liz forward to the live knockout rounds.
Team Adam:
-- Alessandra Guercio and Kayla Nevares were both thrilled to meet celebrity mentor Mary J. Blige. Mary and Adam helped them try to perfect Katy Perry 's "Wide Awake." Alessandra is a "studied voice," while Kayla is a natural. Blake liked Alessandra's raspy, gravelly sound, but enjoyed Kayla's sweet side. Cee Lo liked Alessandra's attitude. Adam decided to keep Kayla on his team, and Christina decided to exercise her "steal" option and keep Alessandra in the contest as a member of Team Christina.
Team Cee Lo:
-- Coffee shop singer Emily Earle took on Mackenzie Bourg, who overcame a life-threatening heart condition when younger. Mackenzie is a huge Matchbox Twenty fan, so she was delighted to have Rob Thomas as a celebrity mentor. Emily and Mackenzie sang Owl City featuring Carly Rae Jepson 's "Good Time." Adam thought the chemistry was "unusual" between the two singers. Blake thought Emily had a strong country voice, which was not necessarily best shown with the song choice. Cee Lo had mixed emotions and struggled with his choice. In the end, the win went to Mackenzie, who now advances to the live knockout rounds.
The Voice returns to NBC on Monday at 8:00 p.m. Eastern time.
Copyright 2012 ABC News Radio