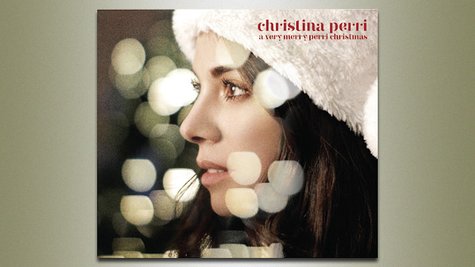 Christina Perri has fulfilled a lifelong dream by releasing her first-ever holiday recording. The EP, A Very Merry Perri Christmas , is now available, and it features five Christmas classics, plus one original tune.
In a statement, Christina says, "I've wanted to make [the record] my whole life. Christmas is so big in my family, and I've been singing these songs since I was three years old."
The songs include The Carpenters ' "Merry Christmas Darling," Charles Brown 's "Please Come Home for Christmas," the traditional piece "Ave Maria," the standard "Have Yourself a Merry Little Christmas" and John Lennon & Yoko Ono 's "Happy Xmas (War Is Over)." Singing backup on that last song is a chorus made up of some of Christina's musician pals, including Michelle Branch .
But since Christina is such a big Christmas fan, and there are so many holiday songs out there, how did she manage to choose just five songs for the project? She tells ABC News Radio, "It's funny, I thought it was gonna be hard to pick which ones to do...but it was one of the easiest decisions I ever made...I just picked my five favorites."
She added, "I just went through and I was like, 'Well, duh. Like, I can't not do this one. I can't not do this one. I can't...' you know, and then it was so easy. It was like, 'There you go. There's the five.'"
As for the original tune, it's called "Something About December," and Christina co-wrote it with her brother. "My brother is maybe the other human with just the same amount of Christmas spirit that matches mine in the whole world," she tells ABC News Radio. "So, it was really easy for us to step into that and we wrote one that I'm so proud of."
In fact, Christina says, "I feel like it's the Christmas song I've been writing my whole life. It's not cheesy or anything like that."
A Very Merry Perri Christmas will tide fans over while Christina works on her second album, the follow-up to her debut, lovestrong. Christina says she's taking October, November and December to go through all the new songs she's written, arrange them with her band and do some pre-production. In February, she plans to do start recording but she's not in any rush, unlike with her first record.
"I'm hiding away and doing that for as long as it needs," she says. "I'm not doing an album in 32 days again. I will definitely take my time but it should be out, hopefully, if it all works out, in the spring."
If the Christmas EP isn't enough for you, Christina will also have a song on the upcoming soundtrack of Twilight -- Breaking Dawn Part 2.
Copyright 2012 ABC News Radio