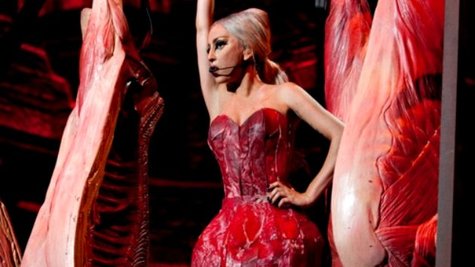 Lady Gaga doesn't often respond to disses by other performers, but she couldn't let one particular one pass -- in fact, she's taken to Facebook to tell off the offending parties.
The South African rap group Die Antwoord features a Gaga lookalike it its latest video, "Fatty Boom Boom." In the clip, a man, dressed as Gaga in blonde wig, sunglasses and a "meat dress," is shown giving birth to a disgusting alien creature. Then, she gets eaten by a lion.
So, what did Gaga do to deserve such a diss? Apparently, she simply invited Die Antwoord to open for her in South Africa. They turned her down. In fact, in another part of the video, the Gaga lookalike is driving through Johannesburg when she spots two members of the group performing. "They should open for me," says the fake Gaga.
Now, Gaga's written a note on her Facebook page addressing the rappers, referencing a song of their called "I Fink U Freeky."
"I fink u freaky but you don't have a hit. hundred thousand tickets sold in SA. #thatmysh*t," she writes. "i guess its not a good idea to tell someone you're a fan. never mind! we get it, you're not a little monster. WE GOT IT."
Copyright 2012 ABC News Radio